An ageing garden shed becomes a gallery, hosting as many art shows, films, gigs, happenings as possible before it meets its maker
Shedshow #1 – The Launch
02.06.13
2.30 – 4.30 pm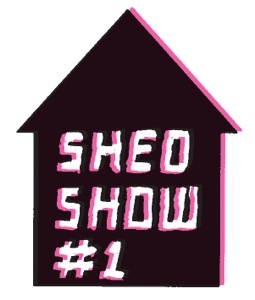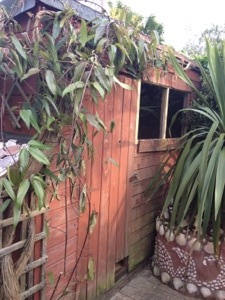 Shedshow #1 Sadie Tierney – Ark Royal & NAB monoprints
Ark Royal, acrylic and mixed media on canvas, 5 x 7′. The mighty Ark, sold off and towed away for scrap last week. This painting referenced sketches of the ship whilst still a fully commissioned warship, with Harrier Jump Jets and a crew of a thousand.
40 drypoint prints. Plates made directly from observation on board different vessels in Portsmouth Harbour. Most of the subjects are warships, noted down at speed in postcard format, and printed back in the studio.
The NAB monoprints. 50° 40.075′ N 000° 57′.155′ W (not for navigation purposes). Prints based on sketches made from cross channel ferries around the NAB tower lighthouse, which guides ships of all nationalities into the deep water shipping lanes for Portsmouth and Southampton. (The only completed tower of 8, originally designed to link up by nets and close the channel to enemy ships). Vessels converge from different directions, and in varying conditions (sea and light). Close by massive ships shelter from storms anchored off the windward shore.
All photographs by Del Thomas
Shedshow #2 – Destroyers
12.07.13
10 – 11 am
Shedshow #3 – Carriers
12.07.13
11 – 12 noon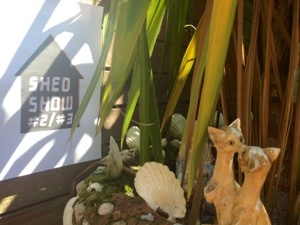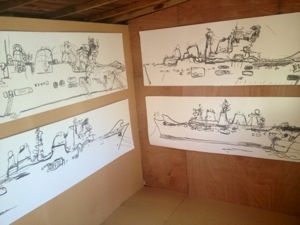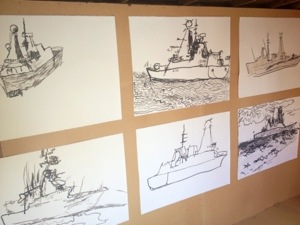 Shedshow #2 Sadie Tierney – Destroyers
Ink drawings on paper
The brand new Type 45 Destroyers – HMS Daring, Dragon, Dauntless, Diamond, Defender and Duncan are reported to be the most powerful warships on the planet. Loaded with the latest weapons and radar, and carrying a crew of 200, their unusual shape is designed to reflect radar.
Shedshow #3 – Carriers
In the last five years the former fleet flagships of the Royal Navy have now been mostly decommissioned and condemned to the scrapyard. These outdated, lumbering hulks were once fully commissioned warships, carrying aircraft and crews of 1000.
All the warship drawings are based on sketches directly observed at speed from on board various vessels in Portsmouth Harbour, or from different viewpoints along Southsea Seafront as the ships move in and out of the harbour on military manoeuvers.