"Cables", acrylic on Somerset Satin 400gsm paper, 50 x 75 cm, 2021
"I live in a city but I felt a great yearning for the mountains last year especially, during the pandemic. This painting was made in response to a visit to Switzerland. It was amazing to be immersed in a vast, wild landscape and watch the tiny precarious cable cars carrying people to the mountain tops, a fragile but constant connection to the enormity and visual permanence of nature on a grand scale. I tried to convey how I felt when I looked at the scene through the expressive marks and colours of the sky."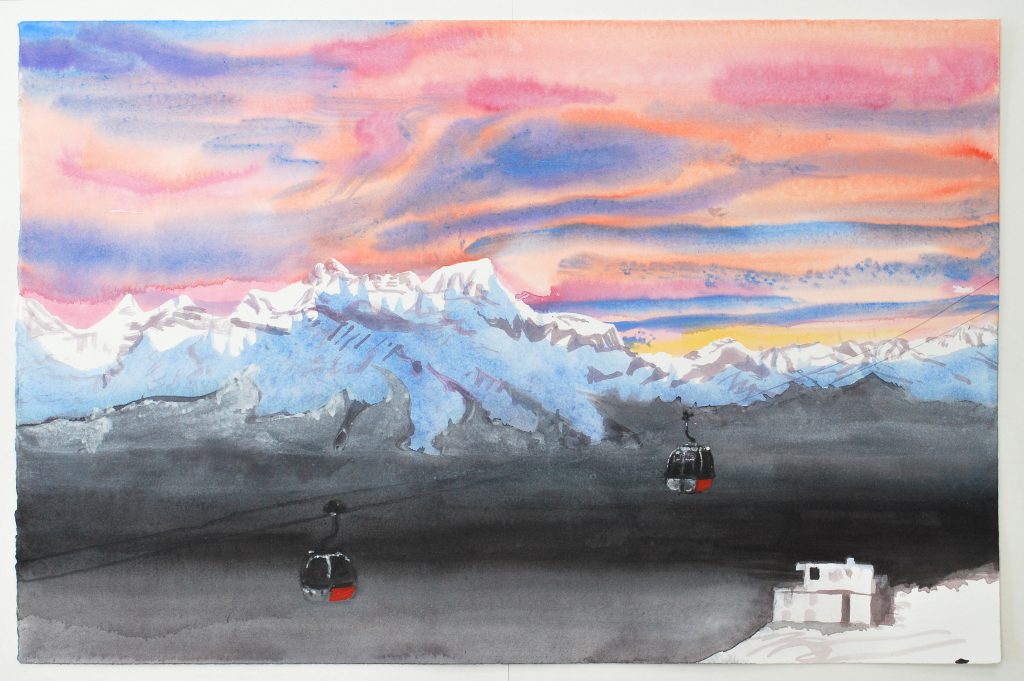 A graduate of the Royal College of Art, London, the artist works in a tradition of painter printmakers who abstract shape and colour to explore subject matter and express human emotion. Objects and places where form is linked to feeling, metaphor and movement or change are explored through celebratory use of colour and line. The vibrant and expressive paintings use drawings made in situ as their source material.
Selected solo exhibitions include Flowers East Gallery, Rabley Drawing Centre, Angela Flowers Ireland, Eton College and Aspex Gallery.
Public Collections include Gdańsk Museum, The Bronx Museum of the Arts, Eton College, The Royal Navy, Baker & MacKenzie and Clifford Chance.