Portsmouth based artist Sadie Tierney's solo
exhibition Tide & Time is currently at Play Dead Gallery
in Southsea until March 25 2016.
Exclusive interview with the artist
by Strong Island UK here and more photographs by
Strong Island here.


Tide & Time

In this new show of paintings, drawings and hand
made prints, Tierney takes inspiration from
the changing seascapes that surround the island
city of Portsmouth. Contemporary renditions of
steel ships, rollercoasters & other structures are
set against the sea and sky. Although working from
life, the artist is less concerned with accurate
depiction of objects, and more interested in
describing visual sensation & experience through
celebratory use of colour & line.
Included in the works made for the exhibition is
an edition of hand made screen prints, made available
here for the first time. In addition Tierney has made
a large painting of HMS Warrior on the wall adjoining
the gallery, which will remain in situ until the end
of the exhibition on March 25th.
Follow or join the event on Facebook, and track the
artist's progress here …
https://www.facebook.com/events/963906243665344/
Exhibition continues until 25 March 2016,
opening times 10-6, Tues - Sat. Entrance -free,
all artwork for sale.
Play Dead Gallery is an art gallery and tattoo studio
in Southsea, specialising in Fine Art and Street Art.

Play Dead Gallery, 131 Highland Rd, Portsmouth, Southsea
PO4 9EY. Contact Daniel Stubbs 07946653881.

https://www.facebook.com/playdeadstudio/
https://www.instagram.com/playdeadstudio/
https://twitter.com/playdeadstudio

www.sadietierney.co.uk
instagram @sadie_tierney
twitter @sadie_tierney
Follow #tideandtime for more updates

Here are some photos from the private view courtesy of
Sheila and Peter Wendes
Thanks to Portsmouth News for the feature article about the show…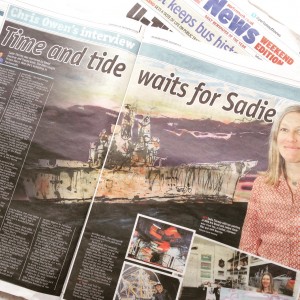 More photos from the exhibition by Daniel Stubbs here…